Use of texts in English at Blackhorse Primary School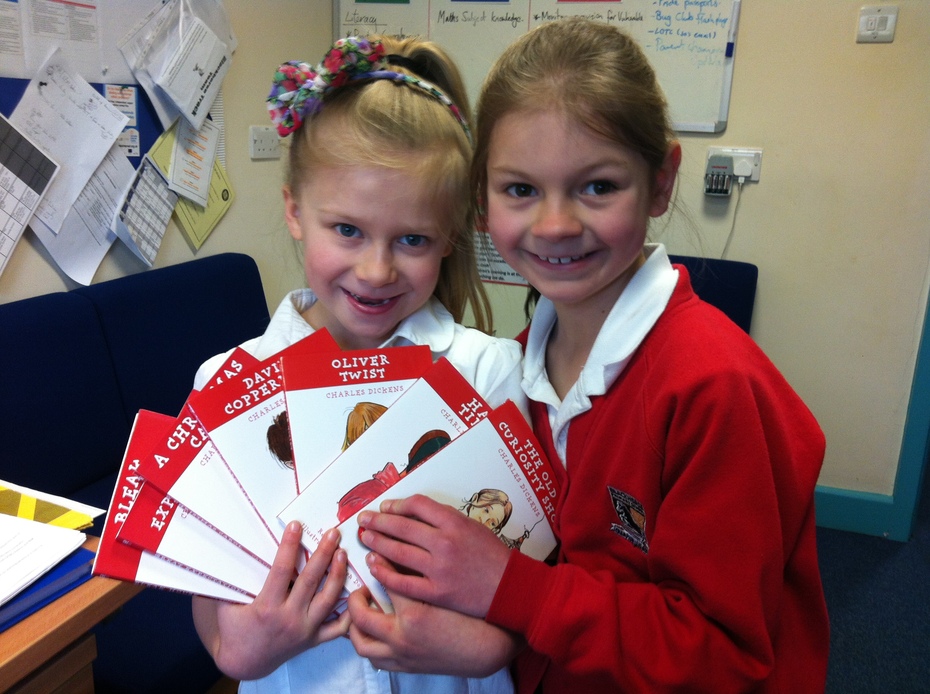 The new National Curriculum introduced in September 2014 places a greater emphasis on children reading a wide range of books as a class and basing much of their English lessons and writing around these books.
At blackhorse we aim to link these books to our termly topics (where possible) and also to ensure that the children read a range of story types. To ensure this range, we used Christopher Booker's 7 Basic Plot Types to make sure that children read different types of books in each year group.
The 7 types of novels which the children read from Year 1 to Year 6 are:
1. Overcoming the monster - The protagonist sets out to defeat an antagonistic force which threatens the protagonist and/or protagonist's homeland.
2. Rags to riches - The poor protagonist acquires things such as power, wealth, and a friend, before losing it all and gaining it back upon growing as a person.
3. The quest - The protagonist and some companions set out to acquire an important object or to get to a location, facing many obstacles and temptations along the way.
4. Voyage and return - The protagonist goes to a strange land and, after overcoming the threats it poses to him/her, returns with nothing but experience.
5. Comedy -The protagonist or central characters are placed in comical situations or behave in comical ways, often learning about themselves as a result.
6. Tragedy - The protagonist is a victim, villain or flawed character who falls from grace and whose downfall is the ending.
7. Rebirth - The protagonist is a villain or otherwise unlikable character who redeems him/herself over the course of the story.
Below is an overview of the fiction texts being read in each year group in 2014-15:
Year 1
Emily Brown and the Thing - Cressida Cowell
Overcoming the monster
The Snail and the Whale - Julia Donaldson
Quest
Three Billy Goats Gruff - De tre bukkene Bruse
Rags to Riches
Jack & the Bean Stalk - Benjamin Tabart
Rags to Riches
Year 4
The Great Wave - Veronique Massenot
Overcoming the monster
(Rest of Y4 texts to be added soon)
Year 2
The Mousehole Cat- Antonia Barber
Overcoming the monster
The lost happy endings - Carol Duffy
Overcoming the monster
Fly Eagle, Fly - Christopher Gregorowski
Quest
Grear Expectations - Charles Dickens
Rags to riches
Oliver Twist - Charles Dickens
Rags to riches
Year 5
Carries War - Nina Bawden
Rebirth
Clockwork - Phillip Pullman
Tragedy
Naughts & Crosses - Malorie Blackman
Overcoming Monsters

Before I met Dudley -Roger McGough
Comedy
Kensuke's Kingdom - Michael Morpergo
Voyage & Return
Pig Heart Boy - Malorie Blackman
Quest
Year 3
Stories from Ancient Egypt - Joyce Tyldesley
(Range of plot types)
Robin Hood- Marcia Williams
Rags to riches
The Vanishing Rainforest - Richard Platt
Overcoming the monster
Shakespeare Stories: Romeo & Juliet
Andrew Matthews
Tragedy
Year 6
Goodnight Mr Tom - Michelle Magorian
Rags to riches
The white horse of Zennor & other stories - Michael Morpergo
Tragedy
A Christmas Carol - Charles Dickens
Rebirth
The London Eye Mystery - Siobhan Dowd
Quest
Holes - Louis Sachar
Quest
The Boy in a girls dress - David Walliams
Comedy